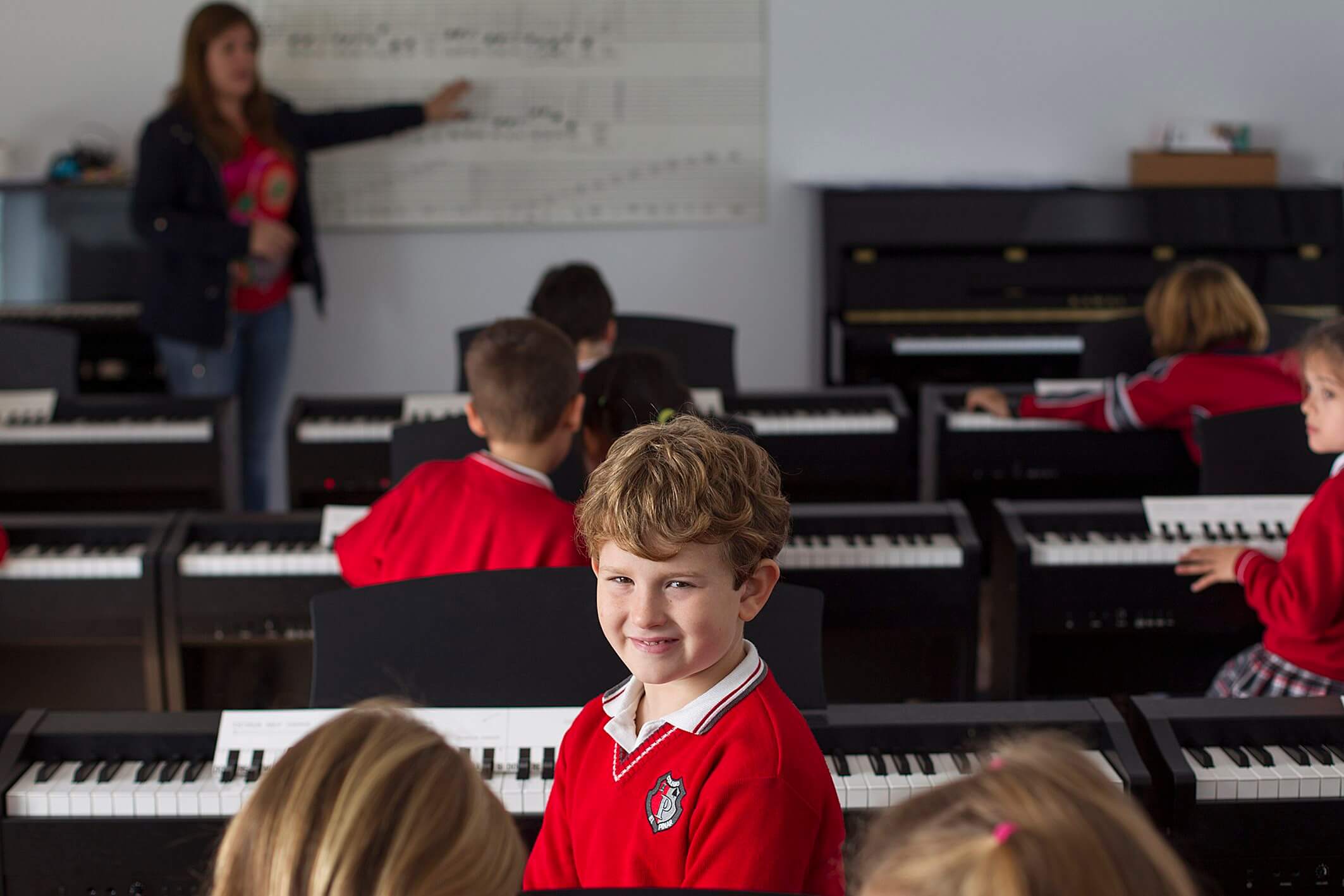 A school to teach, encourage, and promote the love of music
Music is much more than playing an instrument, reading scores or learning music theory. Scientific studies has proven that teaching music to young children generates positive effects on thier cognitive development. This fact together with our conviction that musical education is a powerful asset to the conventional academic training, has led us to deploy the resources needed for the implementation of a School of Music which intend to become a benchmark within the metropolitan area of Malaga. El Pinar will start the Music School during the 2015-2016 academic year- an initiative that willt strengthen our currilum, and that will be open to students from any other educational community in the province, even to adults willing to learn to play any instrument.
The Music School will receive students aged between 3 and 15 years; and will include a special section of musical education for adults along with an offer that will allow all students to acquire the skills to access the academic courses in conservatories.
Our method will be based on teaching classical and contemporary music through a pedagogical model that will help students to achieve their artistic aspirations and to promote their creativity.
METHODOLOGY
Our system is focused to teach musical skills to every student depending on their profiles and ages. We can not apply the same approach to young children.
Young children develop musical skills along with those skills involved in their complete education: Personal autonomy, emotional self-management, cooperative work, and socializing. In the learning process, their innate curiosity and interest are very useful.
The amateur musician discovers practical skills and resources needed to express themselves and to feel fulfilled by playing or singing.
The school will also be aimed to the professional musicians (instrumentalist, composer, teacher, arranger, leader) to help them being innovative, creative, independent learners and good communicators.
EDUCATIONAL OFFER
Initial stages (3-7 years): We use the innate curiosity of younger children to express themselves through music. In this age range is easier to awaken their artistic, creative and social skills through games, fantasy or songs as the main elements of communication.
Secondary and professional stages (8-15 years old): The objective is to sensitise students and to educate them into music. This stages are structured at different levels according to the educational psychology, and during them, students develop basic skills that will allow them to gain autonomy over the learning process and to apply them by playing music in a group.
Music School for adults: For all those people who, regardless of their age, want to start learning music theory and playing of any instrument.
Music school